Cyrille Roget, technical and scientific communication director, Michelin Group, asks if it's time to take the air out of tires, ahead of his presentation on the company's new UPTIS puncture-proof airless prototype at next week's Tire Technology Expo Conference.
Describe your presentation.
In the world of new mobilities and growing environmental challenges, the automotive industry is facing an unprecedented transformation, giving rise to new fields of innovation in sustainable mobility. In this context, the tire industry is facing paradigm shifts and needs to adapt its product offer, innovating in the area of energy efficiency, reduced maintenance cost and material consumption. Michelin UPTIS, a puncture-proof airless prototype for passenger cars, paves the road to this future. As a demonstration of Michelin's proficiency in the high-tech materials domain, UPTIS revolutionizes the airless world, which was previously unachievable in passenger cars.
What is the UPTIS prototype and what advantages does it offer?
The UPTIS prototype (the acronym stands for 'Unique Puncture-proof Tire System') is an assembled airless wheel structure. It is an evolution of Michelin's expertise in Tweel technology. It can be thought of as the first in a new generation of airless solutions. This technology, now available for passenger vehicles, offers a number of advantages. Car drivers feel safer and more secure on the road since the dangers of flat tires and blowouts are eliminated. Fleet owners and professional vehicle drivers optimize their business productivity (no downtime from flats, near-zero levels of maintenance). Raw material use is reduced, which in turn reduces waste. Finally, our internal research suggests that UPTIS airless technology could ultimately prevent premature scrapping of up to 200 million tires a year worldwide.
How is UPTIS different from Tweel?
UPTIS is the first in a new generation of Tweel technology. The UPTIS prototype is derived from Michelin Tweel technologies and shares some design concepts in common: a tire-wheel assembly, 'spokes' that carry the load and a shear beam outer ring, among others. Although UPTIS outwardly resembles Tweel, its structure and materials represent a technological breakthrough. These innovations replicate the functions of a traditional tire, without the inflation pressure required to achieve the target performances.
The UPTIS prototype is reengineered for handling and maneuvering at highway speeds, whereas current Tweel applications can bear a car's weight but handle only at much slower speeds. Simply put, UPTIS is tuned for the requirements of passenger vehicles, Tweel is not. Tweel was introduced in 2004 and industrial production started a few years later. Michelin has achieved a 10-year-plus advantage in its abilities to manufacture these technologies at scale for mainstream passenger-vehicle applications. Without Tweel, UPTIS would not be here today.
What are the key manufacturing challenges?
We are still very early in the development of airless technology for passenger cars. UPTIS is made of innovative materials and will feature a new type of construction. It requires a specific construction process for the different elements and their assembly. Michelin has been working since the start of the project to imagine an assembly process that is still in the prototype phase, just as Michelin UPTIS itself is. We have an industrial process team working on this project.
Can you share any data regarding noise and vibration performance?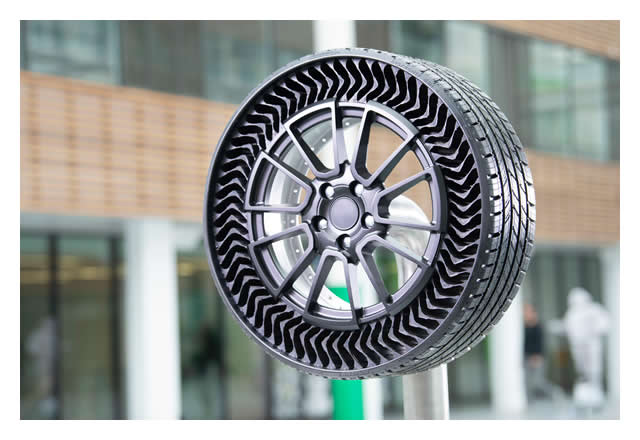 The entirely new design of UPTIS combined with the innovation of the CVR (resin-embedded fiberglass) has specifically been made to be able to duplicate the qualities that drivers like in Michelin tires: their safety, rolling resistance, longevity – but also noise and comfort. So as designed today, UPTIS is competitive with a standard tire, which represents a considerable improvement compared with the initial passenger car version of the Tweel. This is the reason why our researchers started from scratch when designing UPTIS.
Don't miss Cyrille's presentation, which is part of the Tire Technology for the Vehicle Revolution stream, on Day 1 of the conference. View the full conference program here.