Toyo Tire has advanced its conventional tire design base technology, which blends computer aided engineering and artificial intelligence, into a new development process badged T-Mode.
It uses a combination of two simulation technologies employing supercomputers – tire simulation, which reproduces tire motion for performance prediction and structural analysis, and driving simulation, which involves modeling of the vehicle, and takes into account passenger numbers, loads, driving patterns and more, to assess the impact of vehicle motion on tires.
Since the technology was developed in 2000, the company has been applying it in the design of its tires. Toyo used simulation process and data management (SPDM) to incorporate AI design support technologies into the conventional T-mode platform (proprietary simulation infrastructure technology), creating a more advanced tire development process.
SPDM is an infrastructure system that can unify all forms of data management and share standardized processes. To accelerate product development, further simulation capacity upgrades and connections to high-precision designs were required. The SPDM constructed in this instance has revolutionized the Toyo Tire development process.
Conventionally, simulation data is handled by each designer. However, the new T-Mode platform unifies management of various data types as shared assets, allowing sharing between designers. Connecting this design data, simulation data and test data improves the added value of the data and also enables its development as data for deep learning. Simulation data is stored automatically on a shared server and applied in the analysis process.
Thanks to the SPDM infrastructure, which consolidates design technologies with simulation infrastructure technologies, process innovations can be conceived much more quickly than before.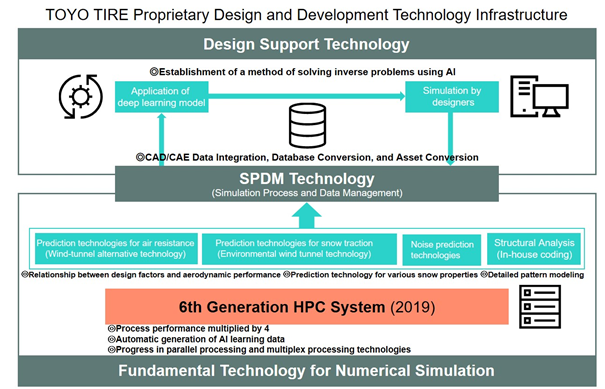 Traditionally, design specifications would be entered into the computer and then simulation done to obtain data on the tire's performance. If performance values do not satisfy the requirements, the design specifications are revised and the simulation is repeated, greatly extending the overall development process.
Obtaining design data on structures, shapes and patterns in order to reach target performance through the 'inverse problem solution' approach is, essentially, a means of entering the required performance values and using the required design specifications derived via AI technologies.
Furthermore, since 2018 Toyo Tire has continued to advance its Mobility Aerodynamics technology and will apply the T-Mode tech to further develop and improve the technique.