Sustainable tire company Enso has become the first tire manufacturer to achieve the B Corporation (B-Corp) Certified business status. The award designates a company that is making a sustainable and ethical impact and which is striving for an inclusive, equitable, and regenerative economy.
B-Corp is a global movement of businesses which support each other to improve and drive global change. To achieve B-Corp status the tire company's business operations and environmental, social and governance strategy were assessed by an independent third-party to evaluate its commitment to meeting high standards. The assessment also verified Enso's performance, accountability and transparency.
To qualify for the certification, businesses must score above 80 in an Impact Assessment and Enso scored a total of 96.7. Only 4,740 companies across 155 industries globally having met the certification standards, and Enso is currently the only tire company to be B-Corp certified.
Based in London, UK, Enso and its team of engineers specialize in the development of next-generation energy-efficient and low-emission tires for EVs. By utilizing material technology and new design processes, the company aims to develop sustainable tires capable of increasing EV range while reducing tire pollution.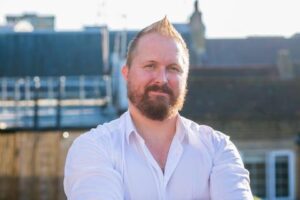 To date, Enso's ultra-energy-efficient tires have achieved energy efficiency ratings of 'A' in Germany and Spain, and broke a hypermiling world record in June 2021 by increasing the range of a standard Renault Zoe EV by 50 miles compared to the vehicle's OE tires.
"We are leading a new movement in tire development, so to be the first tire company in the world to be awarded B-Corp status is a huge recognition and validation of our commitment to sustainably delivering a cleaner future for mobility," said Gunnlaugur Erlendsson (left), founder and CEO, Enso. "We hope our B-Corp certification will signal a vital move within the industry and inspire other tire manufacturers to prioritize purpose over profit."