JK Tyre recently reached a historic milestone when it became the first Indian tire company to have produced 10 million truck/bus radial (TBR) tires. The 10 millionth tire rolled off the production line at the company's Vikrant plant in the state of Karnataka in south western India. In total, JK Tyre produces 3.5 million truck/bus radials per year.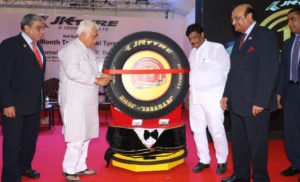 Dr Raghupati Singhania, chairman and MD, JK Tyre, said, "Starting in 1977, when we set up our first tire plant in Rajasthan with an annual capacity of five lakh (500,000), we have come a long way. Today JK Tyre has grown significantly by setting up green field plants, expanding its existing capacities and acquisitions (including Vikrant Tyre in Karnataka and a tire company in Mexico), and acquiring three of Cavendish Industries' plants in Uttarakhand."
Meanwhile, the company has completed the second phase of construction at its new truck and car
radial tire production plant in Chennai, which has a capacity of 12 lakh (1,200,000) TBRs and 45 lakh (4,500,000) passenger car radials (PCRs). It has a blueprint of scaling up to 2 million truck radials and
10 million PCRs. Capacity at the company's Mexico plants is also being increased to 5 million tires from
3.5 million units per year.