BFGoodrich has created a bespoke Dakar tire, the All-Terrain T/A KDR2+, refined at locations worldwide including Morocco, the USA, South America, China, Russia and Hungary.
The BFGoodrich KDR2+ tire was engineered to combine enhanced grip with improved steering response and traction – especially on muddy ground – with no detriment to overall performance.
At the same time it is said to retain the best properties of the predecessor, which ensure optimal efficiency when running on hard-packed or sandy terrain, climbing dunes or driving along aggressive, rocky trails in extreme temperatures, with several of the Dakar stages reaching altitudes above 4,000m.
The new version has a flatter profile, which provides a bigger contact patch, while its overall diameter has been increased by 2mm. At the same time, the construction has been strengthened to cope even more efficiently with aggressive conditions.
Further improvements made to the BFGoodrich KDR2+ tire include a new, more open tread pattern – especially along the shoulders – while the casing has been reinforced to provide added protection against punctures. The rubber's tread pattern has also been completely redesigned.
For each of the sizes in which the KDR2+ tire is available (two-wheel drive vehicles: 37/12.5-17; four-wheel drive: 245/80-16), there is a choice of two compounds – soft and medium.
Teamwork: the key to performance
BFGoodrich engineers worked closely with the brand's partner teams and drivers throughout the development process. From the initial design phase and simulation work to testing in real-world conditions, X-Raid, Toyota Overdrive, Toyota Gazoo Racing and Peugeot Sport all played a role.
Development focused in two key areas for a Dakar tire – versatility and reliability. Real-world testing took place at locations representative of the Dakar stages – in Morocco, the USA, South America, China, Russia and Hungary.
"For the drivers, a good tire is one that enables them to showcase their ability. To achieve this, a tire must be capable of responding perfectly to input via the steering wheel and playing a part in maximizing the efficiency of the vehicle's suspension. It also needs to perform consistently in a wide range of weather conditions and over a broad spectrum of surface types. A good tire also needs to be reliable so that the drivers can focus on their speed and navigation," explained Matt Hanlon, the engineer in charge of the BFGoodrich KDR2+ project.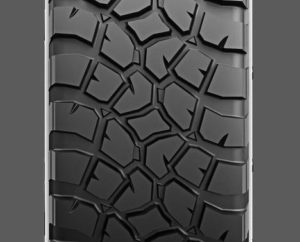 Above: After the finish, tires are analyzed in detail then dissected and their casings inspected. This data is then fed back into R&D