We look back to March 2021, with Graham Heeps' feature on NASCAR's return to racing on the dirt
NASCAR stock-car racing originated on rough-and-ready dirt surfaces across the USA. Even the showpiece race in Daytona was partly run on the beach until the paved Speedway opened in 1959. But as the cars became faster and the races more popular, the emphasis shifted to concrete and asphalt racetracks. What most people thought would be the final top-tier, Cup Series race on dirt was in Raleigh, North Carolina, in 1970.
For the 2021 season, NASCAR decided to take a step back in time by covering the half-mile (0.8km) Bristol Motor Speedway in red clay ahead of the 250-lap Cup race in late March. The third-tier Truck Series had previously run dirt races at Eldora in Ohio from 2013-2019, but this season joined the Cup cars on the bill at the Tennessee track.
Series supplier Goodyear produced the tires for the Bristol weekend at relatively short notice, with the car configuration and track conditions only finalized in early 2021.
"It was a pretty accelerated timeline," observes Greg Stucker, Goodyear's director of race tire sales. "Fortunately, we had run with the Truck Series at Eldora for several years and knew we had a pretty similar tire-size envelope between the Cup car and the Truck. The unknown was going to be the condition of the dirt, but we did have some guidelines from Bristol on what type of dirt would be used – a clay base – so we could draw some parallels from our history of running on similar dirt tracks in that part of the country."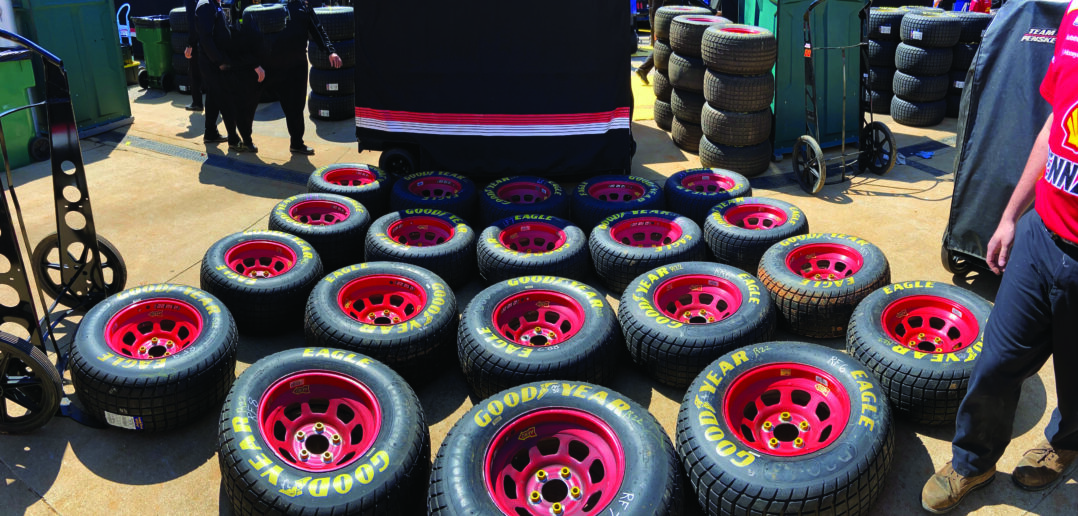 Treaded tires are relatively new in modern NASCAR, with rain tires raced for the first time in the Cup Series just last year. With radials having been universal in the Cup Series since 1993, the Eagle Dirt rubber used in Bristol was also the drivers' first taste of a Cup car on bias-ply tires. Without a belt package under the tread, this construction's compliance has the ability to envelop the irregularities of the dirt surface.
Pronounced stagger was also a feature. The right-side tires were similar to the Cup norm, but the left-side were noticeably shorter to build in more stagger and help the cars to turn on the banked, clockwise track.
Like the Wrangler tire used in Eldora, the Eagle Dirt is based on the G-23 dirt racing tire in Goodyear's standard lineup. There are construction differences between the Eldora and Bristol tires, but they share the G-23's blocky tread pattern and both are 11in wide (up 1in on the base tire). Says Stucker, "It's not a super-aggressive tread pattern – it has fairly large blocks compared with a lot of dirt tires – but it had worked pretty well at Eldora, so we took that and adapted it to the Cup cars at Bristol.
"The tread compound is in the same range as what we would race on the concrete at Martinsville [another half-mile banked oval], for instance. It's formulated differently because dirt compounds tend to work in environments that have moisture in the track surface. That means that elements in the formulation are activated at different temperatures compared with for an asphalt tire. We may adjust to a different carbon black, but the biggest differences are in the added oils and resins, which are designed to operate in different conditions.
"We didn't have much time to do development work," he continues. "We didn't track test [unlike during development of the Wrangler for Eldora], but we made adjustments for the differences between a Truck and a Cup car, including getting a little more footprint for the Cup car by changing the construction to flatten the profile. The first tires were delivered to teams ahead of the Bristol weekend for chassis setup work."
Flying blind
The three-car Penske Racing squad is part of the Cup Series elite, but like all teams it had its work cut out to prepare for the Bristol dirt race without the usual friction ellipse and other tire characterization data made available by NASCAR's tire testing consortium or any precise track-surface data. Single-team tire testing on rig or track is prohibited in NASCAR to help control costs.
"We knew very little about them," confirms Travis Geisler, Penske's NASCAR competition director. "Goodyear gave us some vertical stiffness information and we knew a little about the stagger, but that was a pretty wide range compared with what we're used to working with. We usually work within an 1⁄ 8 to 3⁄ 16 of an inch of stagger, but this time we were closer to a ¾-inch range of variance, which is more typical with a bias-ply tire as you can't control the size in the same way. Air pressure has a much bigger impact on stagger than on a normal radial tire, where it doesn't impact the stagger at all."
Penske turned to dirt-racing experience, both within the organization and beyond, to help with chassis setup. Geisler was one of several Penske staff members with a background in dirt racing, and until 2017 driver Brad Keselowski ran a Truck team that had raced on the Eldora dirt.
The resulting setup on Penske's Ford Mustangs incorporated a ride height "inches higher" than normal and with much more compliance to handle the rough surface: a soft front anti-roll bar and soft springs. The front-rear weight balance was also much more even than normal to help with the all-important traction off the corners.
Let's go racing
Wet weather in Bristol caused a few headaches on race weekend. Qualifying was canceled and both Cup and Truck Series races were postponed until Monday. The dirt surface's ability or otherwise to hold moisture was then crucial to how the tires performed.
"When you're running in daytime in dry conditions, the racetrack tends to become slick," says Stucker. "As it dried out, and with the heavy race cars and the high number of laps we were running, the racetrack took a lot of rubber. The tires were wearing pretty heavily because of that."
NASCAR had already mandated no pit stops under green-flag conditions, but ahead of the race, the maximum interval between tire changes was cut from 100 laps to 50, based on higher-than-expected tire wear in practice.
"We had seen a lot of blistering and a lot of tire wear on the proper dirt cars that ran at Bristol the week before," says Geisler. "They have a lot more tire than us, and 1,000-
1,500 lb [453-680kg] less weight, yet they were still tearing up tires. We knew that with a narrower tire and a heavier car, with as much if not more horsepower, we were going to have some tire issues during the Cup race – and we did.
"Fortunately, they weren't blowing out and failing, but the wear rates were very high; we saw a lot of bald tires coming off the cars. We weren't allowed to groove or sipe, or do anything prep-wise to the tire, when you would normally have been doing some of those things [for a dirt car]. We had to run them stock. All you could therefore do was talk to your driver about how the wear looked and how they could manage it better on each run."
Penske evidently adapted to the changing track conditions better than the rest, with driver Joey Logano bringing home the win.
After the race, NASCAR quickly confirmed that next March's Bristol Cup round would again be run on dirt, but the field will be reset by the planned introduction of 18in tires for 2022's Next Gen race cars.
"The race will be at night," notes Goodyear's Stucker. "That enables us to keep a little more moisture in the racetrack, so it won't get as abrasive. It won't take rubber as much as it did, so I don't think wear will be as big a factor next year."