KraussMaffei Berstorff GmbH

Multiplex Lines 
Quality and performance without compromise
All tyre makers are seeking ever-tighter manufacturing tolerances, whilst throughput rates are steadily rising. KraussMaffei Berstorff extrusion lines are conceived for high product quality and maximum output and are equipped with extruders of different types and sizes. The modular design makes for rapid reconfiguration to suit the mode of operation – Mono, Duplex, Triplex, Quadroplex or Quintoplex.
Throughput rates of up to 10,000 kg/h or about 30,000 passenger car treads per day are achieved with these modern extrusion lines.
The variety of types of tire makes determine the compound, dimension and program changes within the production lines. The head of each extrusion system becomes a measure of degree for quality and efficiency in tire manufacturing.
Multiplex extrusion heads from KraussMaffei Berstorff define the state of the technology with:
• Working widths of up to 550 mm for e.g. 1 running strip or 2 car side strips
• Working widths of up to 850 mm for up to 2 car running strips or 2 truck side strips in a single pass
• Locking force of up to 10,000 kN
• The connection of up to 6 extruders, various models and sizes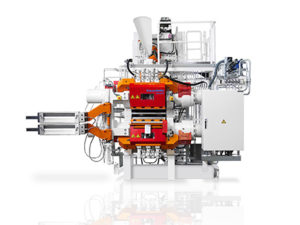 Roller-Head lines
Tandem operation for maximum precision
The KraussMaffei Berstorff roller-head technology provides a perfect combination of preci-sion and cost-effectiveness: the lowest tolerances in the production of inner liners and car-cass fillers or squeegee strips.
The rubber compound plasticized in the extruder is conveyed via a wide extrusion die directly into the roll nip of a two-roll calender. The calender calibrates the web exactly to the config-ured final thickness. The lowest tolerances over the entire web width and an optimal mixture homogeneity guarantee the production of inner liners and filler strips without bubbles or pores. Additional technical features at a glance:
• Mechanical interlocking of the extruder and calender during operation
• Ability to move the extruder for servicing and retooling work
• Hydraulic opening and closing of the wide extrusion die for quick cleaning