Test World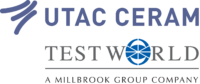 About Test World
Test World is based in Northern Finland and specialises in vehicle and tyre testing in winter conditions.
It offers extensive snow and ice tracks and the world's first indoor winter test facilities for testing on natural snow and ice, and wet and dry braking with aquaplaning.
Test World manages the tracks to give consistent, repeatable results that are highly valued by tyre and passenger car test teams alike. Customers benefit from the availability of service buildings nearby, from a wide range of accommodation and hospitality options, and from Test World's legendary customer service.
About UTAC CERAM Millbrook Group
UTAC CERAM Millbrook is a market-leading group in vehicle testing, type approval and emerging technologies for autonomous, connected and electric vehicles. It provides services and systems to customers in the automotive, transport, tyre, petrochemical and defence industries.
The group delivers regulation & homologation support, specialist vehicle conversions and test systems as well as training, consulting, audit and certification, technical inspection, standardisation and events.
UTAC CERAM Millbrook operates 8 test centres – in France (including the official Euro NCAP facility), the UK (including the 5G-enabled Millbrook Proving Ground), the USA and Finland; it has subsidiaries in Germany, Russia, China and Japan. The group will be opening a proving ground in Morocco in 2021.
UTAC CERAM Millbrook employs around 1280 people across its various locations. In 2019, the group recorded turnover of €173 million.