SEEB AUTOMATION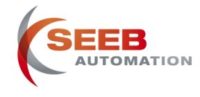 SEEB Automation is always focused on achieving quality, repeatability and flexibility. SEEB Automation answers its customers' requirements by bringing onto the market innovative equipment answering its customers' needs.
TYRE NOISE REDUCTION SYSTEM FOAM APPLICATOR
We are now proposing two solutions based upon the required cycle time with the possibility to cut the foam strips on the exact required length and to control by vision the end product.
In addition to our dual station with a 15 seconds cycle time, our new developed "one station" tool with a cycle time of 25 seconds, including the gluing process, is once again the response to a very specific demand of the market. The focus on the foot print and cost were needless to say more important than the cycle time. However, in case of production increasing, the machine can easily be upgraded to the dual station version.


TYRE WHEEL ASSEMBLY EQUIPMENT
To complete its offer, SEEB Automation Tyre and Wheel Assembly Division is now able to answer all requests on Truck Tyre and Wheel Assembly, with again the most appropriate customer focused equipment.
Regarding car and light truck, our mounting lines are now proposed with the most recent balancing tools and wheel radial run out on line measurement meeting the most recent requirements of the car maker.
Today, our experience and our range of machines enable us to offer our customers the full implementation of a complete mounting line.
As an experienced supplier of the tyre wheel assembly industry, SEEB Automation designs and produces innovative and upgradable industrial equipment for passenger car, light truck, Truck and Agricultural Machinery related to the tyre wheel assembly activities.
Our offers consists in a complete analysis, the production, the delivery and installation of all tools and equipment required to answer in detail your requirements like picking systems, mounting, matching, inflating, bead sitting optimizer, uniformity, balancing. With our vision control system, you have the guarantee to always deliver the right product.
Tyre wheel assembly is our world, let us share with you.