LKY Dry Ice Robotic Technology

LKY Dry Ice Robotic Technology
LKY Dry Ice Robotic is partner for industrial services and stands for German quality since 1987. Their expertise represents all around services in cleaning by using dry ice robots and dry ice blasting technology. The technology itself achieves environmental advantages and supplies good results in the fields of safety and ergonomy. During the process the noise level is under 84 dB(A) and thus in full conformity with all European Safety requirements. No human interference into the press is necessary.
Ergonomic risks and solid waste are not part of the LKY Dry Ice Robotic Technology. From the position of quality a decisive factor builds the gentle cleaning which means no abrasive power to the mold surface.
The repeatability and reproducibility of the process assure a constant cleaning quality. This also includes a partial cleaning capability within the technology. In comparison with other cleaning technologies for example vent hole damaging is out of question.
The LKY Dry Ice Robotic Technology is also able to raise benefits in the fields of productivity and costs. The short in-line cleaning process-time from under 30 minutes per mold is one of them. Another is the full mobility and flexibility of the technology – the system can be in use mobile or stationary. No investment of capital is required by the customer and the techology lowers the costs for mold repair and maintenance. The dry ice robotic cleaning is calculable. The reason therefore is the short and constant dry ice consumption of the cleaning system.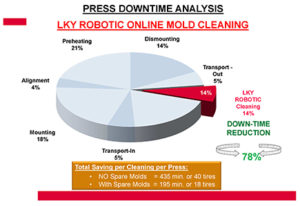 Overall benefits of Co2 technology:
Reduction in costs
Increase in tyre production
Short cleaning processes within the presses (approx. 30 min per mould)
Flexible system (can be used as a mobile or stationary system)
No need to remove tyre moulds (shorter handling times)
Gentle application thanks to dry ice (mould surface is not subjected to stress; waste air valves are not damaged)
Cleaning noise level remains below 85 dB(A) during cleaning
Individual fitting to the mould dimensions
Easy to operate and handle
The recent generation of mould cleaning technology
The LKY 3-chamber ultrasonic cleaning system is used for final-stage of car tyre moulds following dry ice cleaning.
Overall benefits of ultrasonic cleaning:
Unblocks vents so there is no need for interchange of vents
Can be used to celan all kind of mould materials, such as steel, aluminium, etc.
Results in less mould wear compared with conventional cleaning methods
Removes heating residue and all lubricants from segment surfaces