Forbo Siegling GmbH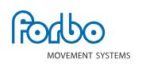 Smart belting solutions for tire manufacturing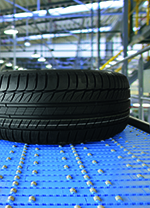 Forbo Siegling is one of the leading manufacturers of conveyor and processing belts.
When top quality's a must, cost's a major factor and lost output's gauged in minutes, Forbo's products and services are the ideal choice.
Vastly different belts are required for each of the very specialised processes in tyre manufacturing. Forbo's portfolio of fabric-based conveyor and processing belts, as well as plastic modular belts, offers the right solution for each application.
A range of extra products, such as splicing equipment, makes handling easier and increases the application's efficiency
More than 300 service points worldwide ensure swift availability of spare parts and services around the clock.
Modular belts Prolink Series 8
Forbo has developed an innovative range of modular belts, where the rollers rotate at an angle of 90° to the conveying direction. This guarantees products to slide onto and off the belt sideways with little friction. The particularly innovative system (patent pending), has the rollers fitted in replaceable sliders. This allows very high flexibility. The number of rollers can be varied and fully adapted according to specific customer requirements. The exceptionally robust components of this belt are made of very hard-wearing POM (acetal), which makes them particular durable. Thanks to the series 8's small pitch (1 inch), very small drum diameters and low heights are possible, which also lowers costs
.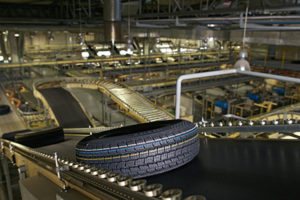 Heat resistant and silicone-free conveyor belts

Forbo Movement Systems has developed a conveyor belt especially for applications where very hot temperatures prevail. It can cope with these challenging demands and doesn't require any silicone.
The new belt, PVK150MF BXB-NA BLACK FR from the Siegling Transtex range is very robust and puncture-resistant. In the tyre industry in particular it can be used as a take-off belt behind rubber mixers (e.g. Banbury® mixers).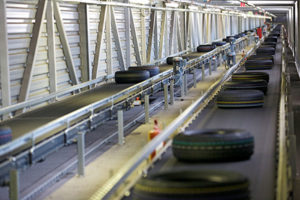 In the tyre industry and in industrial rubber production silicone is often not permitted. Therefore, the demand for silicone-free belts is obvious. The new Siegling Transtex belt is the perfect solution for high-temperature applications where silicone can't be used.
Forbo Movement Systems employs more than 2,000 people globally in nine production sites and 25 international companies. The company was founded in 1919 in Hanover. Since 1994 the company has belonged to the Swiss Forbo Group. The products have been marketed since 2007 under the master brand "Forbo Movement Systems".