Cyxplus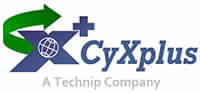 CyXplus is a major player in the Non Destructive Testing industry, and constantly works at supplying the most efficient inspection solutions to demanding manufacturing industries.
Always aiming at offering solutions with an excellent ROI, CyXplus supplies equipment and software to address the market requests. With more than 30 years of experience in NDT, and a large number of inspection machines installed in tire manufacturing plants worldwide, CyXplus has designed a complete range of inline X-ray inspection machines for PCR, TBR and OTR radial tires (from 12″ up to 72″ ID) but also for the inspection of metallic-corded rubber belts.
In software too, CyXplus has developed key solutions: for instance,
CyXpert™, for image analysis and Automatic Defect Detection and Recognition, is available for PCR, TBR and OTR X-ray inspection machines. This Windows-based application for easy setup, can be used on all X-ray machines with digital imaging capabilities. With its extension called CyXpert_Network™, several X-ray machines will be monitored together from one central operator room. The networking of several X-ray machines and their supervision by a single operator is an ideal solution to optimize productivity. This solution, also associated with a very short cycle time, is only available from CyXplus.
CyXplus also offers offline solutions for technical and research centers. CyXscan system is to allow the Engineering or the Q.A. Department to check tire cross sections that are cut in sampling coming from the production line, and to carry out millimetric measurements. The information collected according to a recipe designed by the user can be recorded and commented. Through remote software licenses, it's also possible to share the scanned images with any remote users who do not have CyXscan cabinet, for an efficient collaborative work.
Being continuously mindful of tire manufacturer needs, remains one of the leading motivations of CyXplus.