Cognex

Requirements and solutions for tire identification
Automobile manufacturers have had systems in place to track and trace parts and components for many years. However, it wasn't until recently that the rise of the internet and improvements in rubber laser marking technology that manufacturers have started incorporating unique codes on tires. Adding codes to tires offers many advantages and can even be a legal requirement.
Emergence of QR codes on tire sidewalls
Engraving 2-D QR codes on tire sidewalls is an emerging method for tracking and retrieving information about tires. The marking technology produces a permanent, recessed code on the rubber surface that withstands wear and tear and can be easily read by industrial-grade, image-based barcode readers. Cognex can read QR codes directly marked on the sidewalls of tires thus offering advantages to manufacturers, distributors, retailers, and customers at all stages of the life cycle of the tire.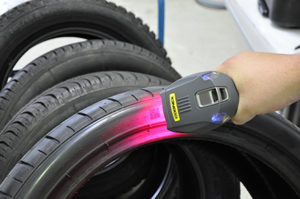 Automatic DOT code recognition
The US Department of Transportation (DoT) requires tires to carry the information of the manufacturer's code, size of the tire and the location and week/year when the tire was manufactured. This DOT code has to be embossed in every tire and is challenging to read because of the low contrast. Cognex DS 1000 laser profiler is especially designed to meet this requirement and offers a solution for fully automated tire identification.
The right solution for every application
Cognex offers a wide range of products and solutions including image-based barcode readers for 1D and 2D codes on labels or directly marked on tires and parts; and 2D- and 3D-vision systems for inspection and OCR reading application. Cognex has designed solutions which are pre-assembled and pre-focused for spinning tires, vulcanized tires, finished tires traveling on a conveyor and many other applications throughout the production of a tire.
Easy factory integration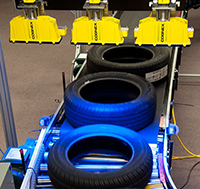 Cognex devices support Ethernet, USB, and RS-232 communication without the need for an external communication module. This makes installations easy and future upgrades less expensive.
Cognex is the world's most trusted vision company. With over one million systems installed in facilities around the world and over thirty years of experience, Cognex is solely focused on machine vision and image-based industrial ID technology. Deployed by many of the world's top manufacturers, suppliers and machine builders, Cognex products ensure that manufactured items meet the stringent quality requirements of each industry and traceability efforts are met with the highest possible read rates.
If you want to learn more about Cognex Tire ID solutions, you can read our application note on QR code reading (click here), watch this video about Tire OCR (http://www.cognex.com/videos/en/DS1100-OCR-automotive-tire-dot-inspection/ ), visit us online (http://www.cognex.com/tire-barcode-reading.aspx)or visit us at our booth at TireExpo in Hanover. Either way – we look forward to hearing from you!