BEUMER Group
Some ideas are so simple and yet so radical that they can change the way in which the world works. For the tire industry, the next paradigm-shifting idea is automated tire handling.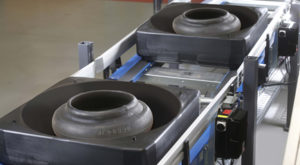 The Tire Tray System for green tire handling
In the tire build area, BEUMER Group's Tire Tray System opens new potential for a simplified and more efficient layout to replace the traditional conveyor systems. Typically, traditional conveyor systems transport empty and loaded trays on a number of different parallel conveyor lines. In comparison, the Tire Tray System handles both loaded and unloaded trays on a single-level line to reduce the system footprint whilst ensuring gentle, end-to-end tire handling and a significantly higher capacity.
The Tire Tray System provides fully automated handling of green passenger car radials (PCR) and light truck radials (LTR) during the manufacturing process. Tires are loaded into a dedicated transport and storage tray immediately after tire build, either manually or via a robot-aided tire manipulator at the tire building machine. This simple yet comprehensive system then combines transportation, sortation and basic storage of green tires with 100% tracking and traceability at every stage of the tire handling process.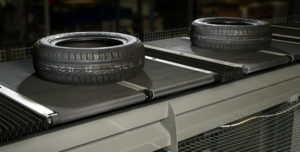 Cross-belt sorter is backbone for production and warehousing logistics
For final finishing and warehousing, the tires are transferred to the BEUMER Group's LS-4000CB cross-belt sortation system. This combines the industry's most energy-efficient sorter technology, to reduce energy consumption and costs, with maximum redundancy in the tire logistics process.
The LS-4000CB's high capacity and ability to handle a wide range of high-friction surfaces increase operational throughput without the need for additional floor space. The gentle belt-sorting allows for the horizontal discharge of the tires which ensures precise positioning and orientation throughout the sortation process. The sorter's loop configuration also offers endless redundancy and capacity compared to conventional conveyors. In addition a noise level of just 62dB is far below anything that the industry has achieved to date using conventional belt technology.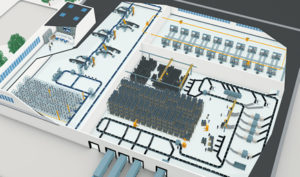 Capacity, efficiency and flexibility
The combination of the Tire Tray System for green tires and the LS-4000CB sortation system for finishing and warehousing, signals the start of a new era within the tire manufacturing industry. This paradigm shift will allow tire manufacturers to achieve significantly higher capacity and redundancy whilst also reducing the amount of equipment, floor-space and cost.